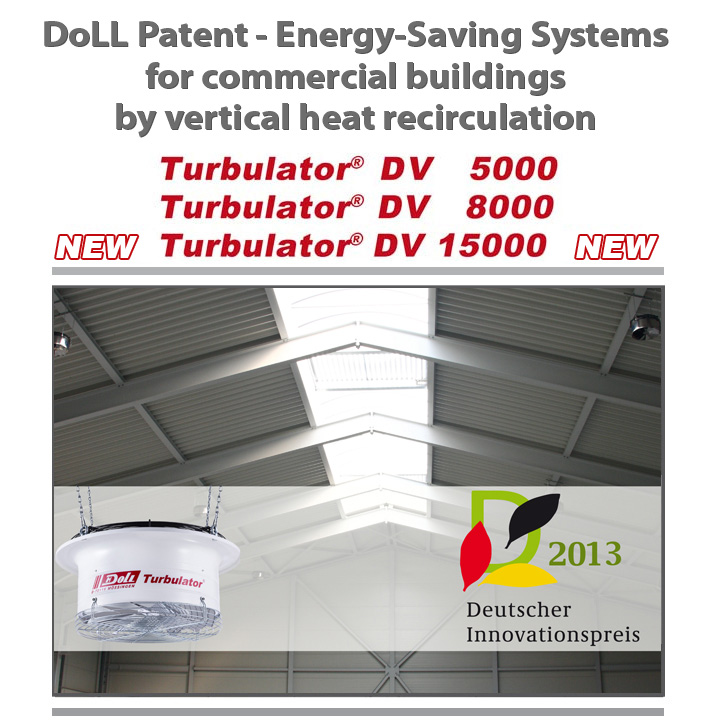 The basic problem...

Heating of industrial buildings require in comparison relatively high energy consumption. According to physical laws, without heat recirculation systems, heat goes up - independently from what kind of heat generation is used for the heating of the industrial building. This results in high transmission heat losses to the outside and in high energy costs. During the summer, industrial buildings are often too hot, and they lack sufficient fresh air supply plus soft and comfortable ventilation.

Unsatisfactory attempts to solve the problem...

Conventional ceiling fans provide a comparatively
unsatisfactory solution: At high speed, the air is
only centrally guided downward - the high impact speed on the ground makes the opposite
Warm air layers faster in counterproductive ways
rise upwards. Also arise unpleasant Drafts among the systems. at low speed, the air too little specific kinetic energy given and the heat rises in half
Height again on thermally upwards. It gives
no homogeneous heat distribution. Of further
energetic disadvantage is the comparatively high
Power consumption.

DOLL Turbulator
The intelligent solution...

Only specially developed and patented turbulators from DOLL enable a targeted recirculation of the heat to the floor area. Without any draft effects, the heat is recirculated and stopped from going up, regardless of the existing heating system. The result is a comfortable and consistent climate in industrial buildings. With the motor technology from DOLL and its high and efficient EC-motor, devices consume less power than traditional ceiling fans. They are significantly more effective, produce better airflow and less noise emissions and have no draft effects. DOLL Turbulator® technology permits penetration of complex high shelf systems and transports heat in cold corners.
Advantages of the patented Doll turbulators in comparison:
Advantages of the patented Doll turbulators in comparison:

 

targeted heat circulation without draft effects through the turbulator heat is circulated and stopped from raising up

 

it results in a comfortable and consistent climate in industrial buildings

high energy savings through reduced operation times of the heating systems and pump cycles

important for obtaining a certification for new buildings according to EnEV (Energy Saving Ordinance)

comparatively much lower power consumption than other systems

Doll's turbulator jet technology works even in buildings with high machines and/or storage facilities and transports heat in cold corners. Condensation of humidity and as a result, prevention of rust and mold growth on warehouse goods.

Stainless steel or powder coated housing in the desired color as per RAL are continuously and comfortably adjustable via the energy-saving control from Doll or can be connected to the existing building automation technology.

No additional "energy destruction" through rule systems such as transformer switching devices but instead 0-10 V control

Unique, radial, and even heat circulation in Helix geometry through patented turbulator

improved air climate in supermarkets

 

more comfortable working climate for your employees
With existing roof ventilation, it is possible to mix the air in the industrial building with fresh outdoor air.
The devices do not only offer an energy benefit, but also significant benefits feeling comfortable in winter and summer!
Independently from the type of heating systems, Turbulatoren® are the cheapest energy efficiency measures with simultaneous advantages of feeling comfortable in new buildings as well as older buildings! Subsequent insulation does not have the same energy effect at comparatively much higher investment costs!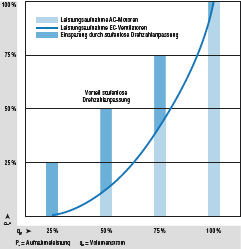 We offer you our patented technology in three practical service sizes: Doll Turbulator DV 5000, DV 8000 and the newest Turbulator DV 15000
depending on the type of building, its size and use
All systems function with the high efficiency of Doll's EC motor technology, which uses comparatively
much less energy than traditional ceiling fans.
 Special model Doll - turbulators with reverse function - New Patent 2018:
Our patent also covers reversing operation of ceiling fans!
In commercial buildings, there is the customer requirement for individual projects that the devices heat in the ceiling area
aspirate and press through skylights / RWA openings to the outside. The special version of the turbulators
is switchable between conveying direction downwards (gentle turbulator operation) and conveying direction upwards.
Extraction in the roof area and vertical-strong blowing upwards.
The speed and air flow are infinitely adjustable via 0-10 V signal in both conveying directions. This can be a
under the roof located "warming bell" are better pressed outward.
 

Extraction of the heat bell /




Support the existing




thermal buoyancy +




Escape over open




Skylights + RWA`s im




Summer after-work




Ideal in salesrooms

Heat recovery in winter
Ventilation in summer eg.
in the morning + in the morning
Outside air entry via


open skylights / RWA`s

 
Ideal in Verkaufsräumen und
Produktionshallen