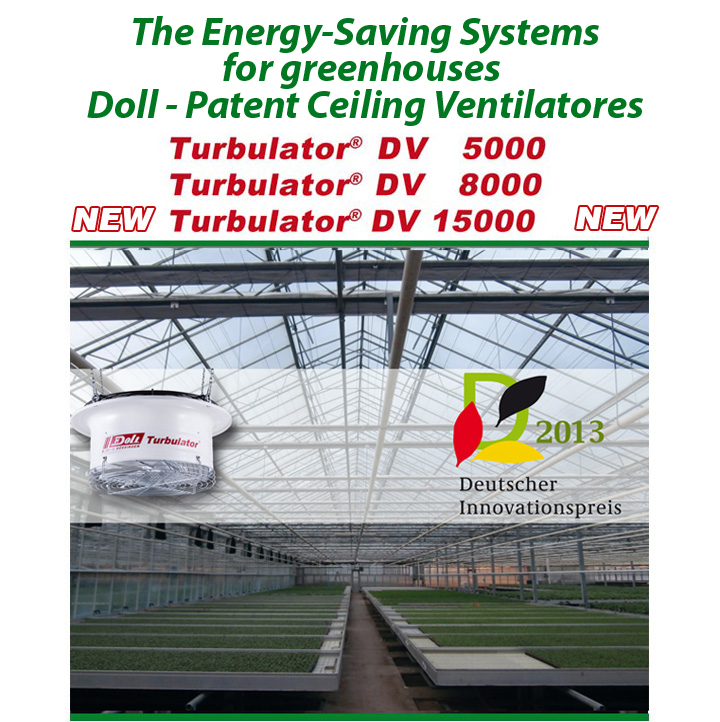 The basic thermal problem of greenhouses:
In comparison with housing, heating of greenhouses require more energy because insulation similar to residential or industrial buildings is for horticultural and biological reasons not possible. For the production of nutrients and growth during photosynthesis, plants need light. The greenhouse building cannot be designed highly insulated but has to be light translucent. This results in a high heat loss when compared with other buildings. Following physical laws, heat rises up in a greenhouse, away from the plants, up towards the roof or underneath an energy shielding, and there it creates a heat pad. This results in high transmission heat losses to the outside and in high energy costs.

During the summer, greenhouses are often too hot, despite applied shades, and it lacks sufficient fresh air supply and ventilation. Traditional greenhouse fans do not help much as they create only a horizontal and mostly centric air flow. Vertical heat recirculation is with traditional fans not possible.


This fundamental problem and the rising energy costs resulted in the development of DV-Turbulatoren® by our company!
Turbulators by Doll allow targeted reduction of the thermal pads from the ceiling area or the energy shielding. This leads heat back to the plants - without draft or cultivation draught symptoms!
Due to its proven effectiveness and of high importance in terms of energy efficiency of greenhouses, the Turbulator® was patented registered as a trademark. We won the Deutsche Innovationspreis Gartenbau 2013 (German innovation horticulture award for 2013) for this innovative idea and system! More than 3000 systems were produced so far and are used successfully in businesses!